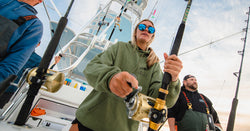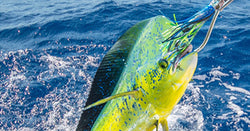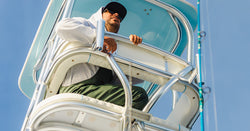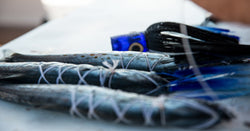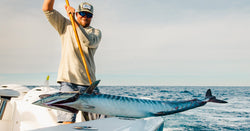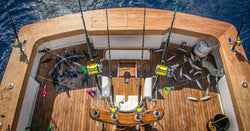 Offshore
(Tuna, Dolphin, Wahoo, Billfish)
Water Depth : 150' +
Here at Intracoastal Angler offshore fishing is one of our many specialties. From Chasing Wahoo, Tuna, and Mahi-mahi on the inside edge of the gulf stream, to Blue Marlins and Swordfish some 80 miles from the beach, we've got you covered!
Some of the most highly coveted pelagic species call our waters home. Blue marlin fishing in the spring and summer to wahoo fishing in the fall allows for an opportunity at the fish of a lifetime just about year round!
When we're telling fish stories around the shop about a day offshore we're generally talking about any area from 50-100 miles from the inlet. This area is where the nutrient rich Gulf Stream passes by our coast carrying with it a plethora of pelagic species.
At Intracoastal Angler we're fully stocked for any of those gamefish you may encounter, as well as the knowledge to show you how and where to use it!
So next time you're at the shop on a brisk November morning or hot summer day don't forget to ask us about our favorite offshore setups!
Offshore Bucket Bundle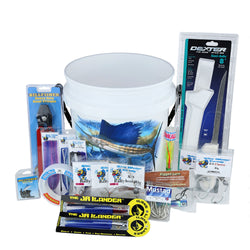 Includes:
TrikFish SWL0008001 Mono Leader
Original Monkalur CG/DOL
BWC 11207 Seawitch w/ Mylar
BWC 11215 Seawitch w/ Mylar
Billfisher 1.0B Double Sleeves
Bucket With Graphic and Rope

and much more!
Need this or that… or an extra hand?
Ring the shop and we will get you hooked up!
Delivery Services
Here at Intracoastal Angler getting you on the water with the right tackle is our ultimate goal. However if you're busy getting the boat ready, or simply forgot a couple last minute items, we are happy to offer a delivery service directly to you. For any purchase over 150$ and within New Hanover County city limits we will deliver tackle directly to you for a 20$ delivery charge. This offer applies for fishing tackle only, no apparel will be included in the delivery services.
Mate Services
As we all know the weather wants to be the best on the days that not everybody can go fishing. At Intracoastal Angler we want to help solve that problem. If you are shorthanded or just need a couple pointers on whatever type of fish you're targeting, we offer a mate service just for you. Our trusted group of local mates have an extensive knowledge of the area and expertise to help you effectively target any fish in the ocean. Our mates will do either half or full day trips depending on what you want to catch. Give us a call for pricing and availability, and don't be short handed the next time the fish are biting!
For Pricing and Availability:
Send Us a Message
Offshore Weather
Featured Products