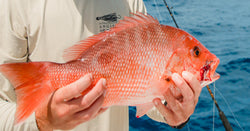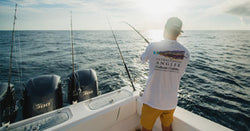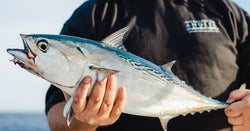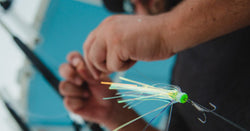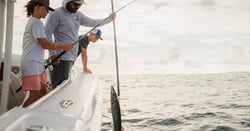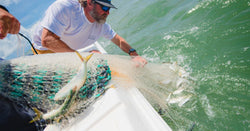 Nearshore
(Spanish Mackerel, Atlantic Bonito, King Mackerel, Cobia)
Water Depth: 45' - 150'
Moving from inshore fishing to nearshore fishing can sometimes be a scary thing, but leaving the confines of the backwaters and venturing out into the open ocean will be a decision you won't regret.
Once you take that leap you'll be amazed at what our coastal waters have to offer. Each time of year brings new life and opportunity, from casting into a feeding frenzy of Spanish Mackerel on a hot summer day to dragging groupers off the bottom on a chilly morning in October, our nearshore fishing has an abundance to offer.
Typically when we talk about nearshore fishing at the shop we're referencing anywhere from .5 a mile to 20 miles. This diverse range in depth and water temperature provides home to a wide variety of fish.
Whether you want to troll for Spanish Mackerel and King Mackerel or hit the bottom for Grouper, Snapper, and Sea Bass our nearshore fishery offers it all.
Having a group of guys here at the shop who were born and raised in the Wilmington area gives us the know-how to set you up with the right tackle and point you in the direction of the best fishing for that time of year.
Next time you're at the shop mention nearshore fishing and you'll be sure to hear all the tips and tactics for a successful day along the Cape Fear coast!
Nearshore Bucket Bundle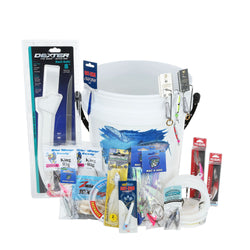 Includes:
Dexter S133-8WS1-CP Fillet Kit
BWC 33551 Dead Bait King Rig
Clarkspoon KIT1 Starter Kit #1
Big Nic RMH15-BLMY Macahoo Rigg
TrikFish SWL0003001 Mono Leader
BWC 33552 Dead Bait King Rig

and much more!
Need this or that… or an extra hand?
Ring the shop and we will get you hooked up!
Delivery Services
Here at Intracoastal Angler getting you on the water with the right tackle is our ultimate goal. However if you're busy getting the boat ready, or simply forgot a couple last minute items, we are happy to offer a delivery service directly to you. For any purchase over 150$ and within New Hanover County city limits we will deliver tackle directly to you for a 20$ delivery charge. This offer applies for fishing tackle only, no apparel will be included in the delivery services.
Mate Services
As we all know the weather wants to be the best on the days that not everybody can go fishing. At Intracoastal Angler we want to help solve that problem. If you are shorthanded or just need a couple pointers on whatever type of fish you're targeting, we offer a mate service just for you. Our trusted group of local mates have an extensive knowledge of the area and expertise to help you effectively target any fish in the ocean. Our mates will do either half or full day trips depending on what you want to catch. Give us a call for pricing and availability, and don't be short handed the next time the fish are biting!
For Pricing and Availability:
Send Us a Message
Nearshore Weather
Featured Products