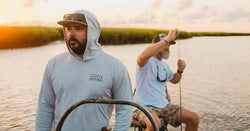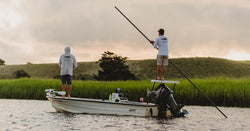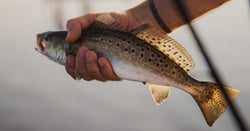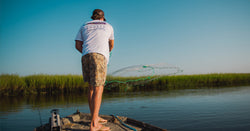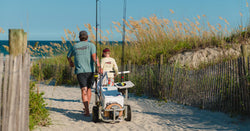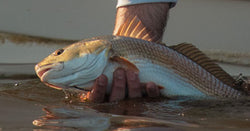 Inshore
(Drum, Flounder, Speckled Trout)
Water Depth : 3"- 30'
Inshore fishing can provide some of the most exciting and memorable experiences that the world of fishing has to offer.

From chasing Red Drum on the flats to catching flounder in the lower Cape Fear river, anglers of all ages can enjoy what our inshore waters have to offer.
Here at Intracoastal Angler, we tend to use the term Inshore as any fishing that takes place inside the inlets. This would refer to all creek systems, bays, or estuaries along the waterways or rivers.
Within those areas you can be sure to find an ecosystem teeming with life. The Flounder, Drum, and Trout fishing in our region is second to none, and with the right tackle you can take part in all of it!
Here at the shop our group of dedicated fishermen eat, sleep, and breath fishing.
So next time you stop by, be sure to ask us about some of our favorite inshore tactics. Whether you want to catch a red drum on topwater or simply wet a line off the dock in the evening, we're fully stocked with all the gear for any inshore fishing occasion.
Inshore Bucket Bundle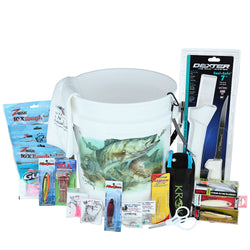 Includes:
Dexter S133-7WS1-CP Fillet Kit
Mirrolure 20MR808 Catch 2000
DOA FSH4-3P-368 Shrimp Lure
BWC 23904 X-Eye Jighead 4pk
BWC 23904 X-Eye Jighead 4pk
BWC 00112 Flounder/Carolina Rig

and much more!
Need this or that… or an extra hand?
Ring the shop and we will get you hooked up!
Delivery Services
Here at Intracoastal Angler getting you on the water with the right tackle is our ultimate goal. However if you're busy getting the boat ready, or simply forgot a couple last minute items, we are happy to offer a delivery service directly to you. For any purchase over 150$ and within New Hanover County city limits we will deliver tackle directly to you for a 20$ delivery charge. This offer applies for fishing tackle only, no apparel will be included in the delivery services.
Mate Services
As we all know the weather wants to be the best on the days that not everybody can go fishing. At Intracoastal Angler we want to help solve that problem. If you are shorthanded or just need a couple pointers on whatever type of fish you're targeting, we offer a mate service just for you. Our trusted group of local mates have an extensive knowledge of the area and expertise to help you effectively target any fish in the ocean. Our mates will do either half or full day trips depending on what you want to catch. Give us a call for pricing and availability, and don't be short handed the next time the fish are biting!
For Pricing and Availability:
Send Us a Message
Inshore Weather
Featured Products