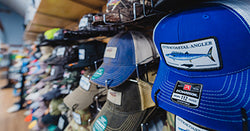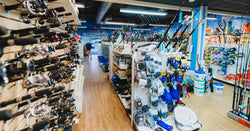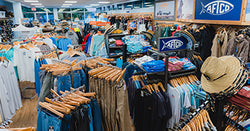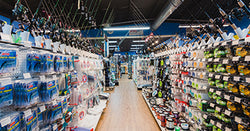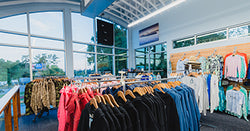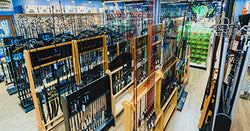 Not Just Another Tackle Shop
At Intracoastal Angler the last thing we ever want to be is just another tackle shop. We pride ourselves on being a family owned business for the last 15 years providing more than just the supplies that you may need for a fishing trip. Each person that steps through the door at our shop instantly becomes a part of the Intracoastal Angler family.
We aim to provide the most cutting edge tactics and tackle for acquiring any species you desire. From local neighborhood ponds to the deepest corners of the ocean we are ready to arm you with the gear for any battle you may find. Our team here at Intracoastal Angler is comprised of a group of guys who are die hard local fishermen.
All of us are either here at the shop, or fishing, which gives our IA family the most up to date reports and tactics for any type of mission you may have. With the love and passion we all share for the water we are ecstatic to provide information with each and every person that comes in the shop.
You're going to find that there is nothing "cookie cutter" about Intracoastal Angler. We stand in a league of our own, powered by a passion for fishing and the lifestyle that it embodies.
Capt. Jackson
Get In Touch
Visit Our Store
Intracoastal Angler
6332 Oleander Dr.
Wilmington, NC 28403
Store Hours
Monday - Saturday
7 AM - 6 PM
Sunday
9 AM - 3 PM
Need this or that… or an extra hand?
Ring the shop and we will get you hooked up!
Delivery Services
Here at Intracoastal Angler getting you on the water with the right tackle is our ultimate goal. However if you're busy getting the boat ready, or simply forgot a couple last minute items, we are happy to offer a delivery service directly to you. For any purchase over 150$ and within New Hanover County city limits we will deliver tackle directly to you for a 20$ delivery charge. This offer applies for fishing tackle only, no apparel will be included in the delivery services.
Mate Services
As we all know the weather wants to be the best on the days that not everybody can go fishing. At Intracoastal Angler we want to help solve that problem. If you are shorthanded or just need a couple pointers on whatever type of fish you're targeting, we offer a mate service just for you. Our trusted group of local mates have an extensive knowledge of the area and expertise to help you effectively target any fish in the ocean. Our mates will do either half or full day trips depending on what you want to catch. Give us a call for pricing and availability, and don't be short handed the next time the fish are biting!
For Pricing and Availability:
Send Us a Message
Featured Products