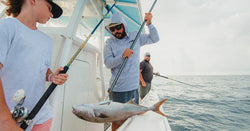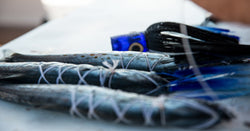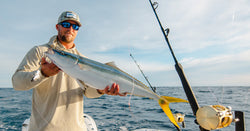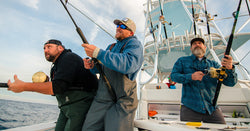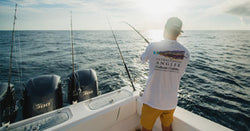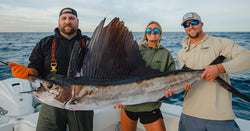 Book the fishing trip of a lifetime here in Wilmington, NC
If you're visiting Wrightsville Beach, NC and looking for a fishing trip you'll never forget? Then book a offshore fishing trip with the pros at Intracoastal Angler. 
They know what's biting, where and how to catch 'em. All your party has to worry about is preparing your arms for some serious cranking! We'll fish, You'll Catch!
35' ST Contender Triple 300 Yamahas "Intracoastal Angler"
4 Hour - $500
Perfect trip for kids, or those who are new to fishing or feel uneasy about losing the site of land. A four hour trip will allow you and your party to fish for Spanish Mackerel, Bluefish, False Albacore, King Mackerel & Cobia. The best part, you're back to the dock in time for brunch or lunch! This is also best for those who want to do a sunset cruise or ride the ICW looking for Dolphin. 
6 Hour - $750
Venture further out into the deep and fish live bottom and other structures 10-20 miles from Wrightsville Beach Inlet. Targeting King Mackerel, Dolphin, Amberjack, and Barracuda. During our 6 hour trip, we will generally be trolling, which lends the opportunity to catch all of the species listed above.
8 Hour - $1100
On our 8 hour trip, you will find yourself anywhere from 15-35 miles offshore, giving you that much more opportunity for the fish of a lifetime! During this trip, we will mostly be fishing on live bottom and offshore wrecks. Trolling is a great plan of attack for catching Dolphin (Mahi-Mahi), King Mackerel, and other wreck species on this trip. There is also the chance to catch one of our summertime Sailfish using the same tactics! Our 8-hour trip also gives you the best opportunity for bottom fishing success. If trolling isn't your thing we can drop to the bottom in search of grouper, snapper, Black Sea bass, and an abundance of other bottom critters!
12 Hour (full day) - $1800
For the angler in search of the fish of a lifetime, this is the trip for you! Our full-day trip consists of running to the gulf stream which can range anywhere from 50-65 miles offshore. This gives you the best opportunity for great Dolphin (Mahi-Mahi), Wahoo, Tuna, and even Blue Marlin fishing! Each season in Wrightsville Beach gives way to another productive fishery offshore, so there is never a bad time to book a full-day trip!
46' CTS Seahunter Quad 425 Yamaha
Our 46 Seahunter CTS is available for swordfish charters only, call or email for pricing and availability.
Featured Products